Everybody knows the Superbowl isn't really about football – it's about the commercials. (And of course the half-time show. You never know what might happen there.) Advertising space during the superbowl can literally cost millions of dollars. The commercials are more highly anticipated than the match – with trailers for commercials being broadcast in anticipation of the big day. But you don't just want your 90 million-strong audience to watch these commercials, you want them to talk about them. Online, preferably, on Twitter, so you can measure how often people talk about your brand.
We've discussed the value of social media here before. Once or twice. All right, a few times. Bottom line is, as in everything with marketing operations: you have to be able to measure your efforts if you want to tell what you're doing is useful or makes sense. Social media monitoring tool Brandwatch did just that, and created a great infographic of it afterwards. See how the major advertisers scored on the social scale – how often were they mentioned in tweets, and was the overall sentiment positive or negative?
Click the image to go to the interactive chart.
.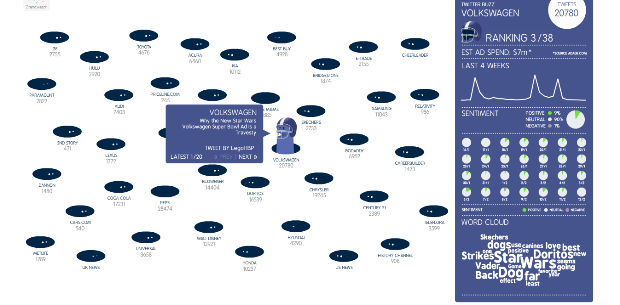 .
.